History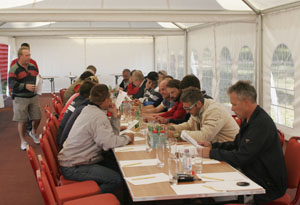 The fleet of yachts «Dragon» over the past few years earned a reputation of the elite class of Russian sailboats.
Sailing is democratic, and quite different in their social status, people are subject to uniform rules of racing competitions, together participating in regattas and celebrate the victory.
The only stumbling block for the Russian sailors was the creation of the National Association of class.
And given the fact that «Dragons» today is the «visiting» class - in the European regattas involved more than a dozen crew - the situation demanded action.
The historic event happened at the Russian Championships, held from 21 to 23 July 2006, in the yacht club «Pirogovo». The general meeting of fleets held on the day of training races, and two years of negotiations culminated in the election of president of the national association - George Shayduko (professional yachtsman, comments Olympics).
Now no one can be no doubt the legitimacy of the Russian Dragon Association.
Objects of the Association:
To further the interests of the International Dragon Class in Russia
To be responsible for the administration of the class rules and coordinating proposals for rule amendments for consideration by the International Sailing Federation (ISAF)
To ensure that the class retains its "International" status by complying with the criteria adopted by the ISAF
To co-ordinate and select venues for Russian championships
To produce regular newsletters containing information about the Class and the activities of the IDA for distribution to all Dragon sailors throughout the world
Contact Us: